JZERRO Mexico Photos...
Click each photo for large version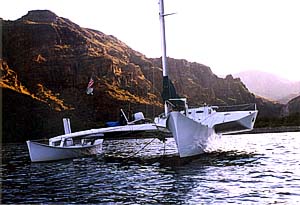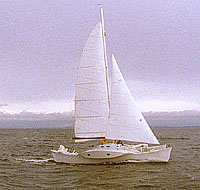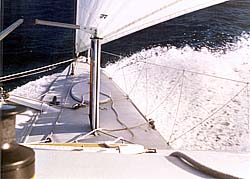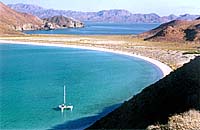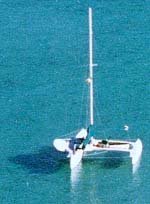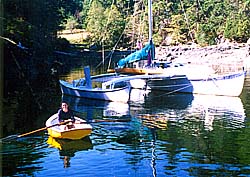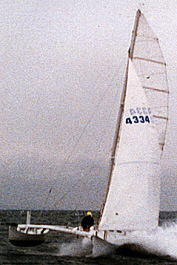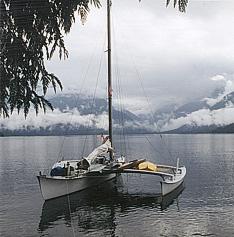 36' Pacific Proa JZERRO
1997-98, Baja California, Mexico
Designed and built by Russell Brown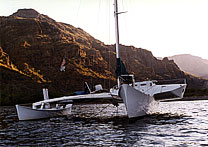 larger version, 2080 x 1473, 674K, May, 2008
Whitsunday Multihull Rendezvous, August 17th..19th, 2002 - Airlie beach, Australia
-- begin quote -- (from defunct emultihulls.com)

Another welcomed International guest amongst the 'troops' was the affable Russell Brown on his beautiful proa, JZERRO. Any doubts on proa performance were obliterated throughout the Regatta as the liveaboard cruiser stormed start and finish lines to take All Out Line Honours in the Cruising Division.
The 37 footer of Russells' own design provided the fleet with some amazing spectacles as it continually powered off into the distance, leaving a slightly unusual wake in its' track! Russell and crew member, Mark Lamb worked extremely well together to pull maximum speed at every opportunity. Within the first hour of Race One it became obvious JZERRO was in the wrong Division... Racing definitely more their league but... shoulda, coulda, woulda... there's always next year Russell! Needless to say, their handicap on the morning of Race Two bore very little resemblance to the original and popped them out of the placing picture. Their elapsed times continued to impress, however, and they would have been chasing the 'Big Boys' for sure (EMULTIHULLS.COM and ROOM) had they been running the Racing Division. Even David Mitchell on the speedy Crowther 36' tri, SPIRIT, was astonished when JZERRO sliced past them at an awesome rate of knots. "We were registering 17 and they literally flew past us..." David said.


-- end quote --
LARGE PHOTO VERSION OF THIS PAGE!
See also:
JZERO of Polygor, 1977 - photos by Craig Bumgarner
KAURI: Photos, text, and video! 37' proa on Martha's Vineyard, 1989 by Joseph Oster
Park It, Dad by Jim Brown - Russell and Jim sail KAURI from Bermuda to New England

*Sep, 2011

CIMBA (re-named Pacific Bee in 2008) and JZERRO
CIMBA becomes Areté, Chiloé Island, Chile

*Feb, 2020

For Sale, January 2023

JZERRO Construction Photos Port Townsend, WA 1992 by Joseph Oster
a sailing 'push me-pull you' JZERRO article by Andy Turpin, Latitude38
JZERRO "doing about 20 knots" on S.F. Bay, passing Profligate,
Dave Culp and Joseph Oster visible on bench seat, Latitude38
Photos! Sailing JZERRO on San Francisco Bay
Russell Brown, Jim Antrim and Joseph Oster, June, 2000
Russell Brown on Proas interview w/ John Harris at clcboats.com
"Jzerro will reach at 17 or 18 knots in 12 knots of wind."
Observations on Pacific proas by Russell Brown, 3 Sep 2011
JZERRO haul out Dec 2013, Port Townsend, WA
JZERRO on video
Pacific Proa Jzerro in Port Townsend - September 2012
Jzerro underballasted and hard on it
Proa Jzerro September, 2011
sailing 17.8 knots on auto-pilot! 720p HD *posted May, 2011
sailing 17.8 knots on auto-pilot! & sailing past lighthouse *posted July, 2008 (not HD)
Jzerro in Port Townsend 2015, at 18 knots
35' Trimaran "HUMDINGER"
designed & built by Walter Greene, re-built and sailed by Russell Brown
---



EPOXY BASICS:

WORKING WITH EPOXY CLEANLY & EFFICIENTLY
by Russell Brown