A wide variety of rigs are possible and have been considered. Perhaps the best choice is the "modern sloop rig" because it is conventional, well proven, high performance, easily optimized with wing mast, furling headsails, light air screachers, etc. Also considered were catboat and schooner rigs (two masts).
Balestron rig
or
AeroRig®
(now defunct!)
. Commercial efforts at such rigs haven't been effective yet, mostly due to
excess weight
.
We came up with an ultra-lightweight version of our own called the "Bucky Boom", inspired by Buckminster Fuller, though it too has some problems to be overcome.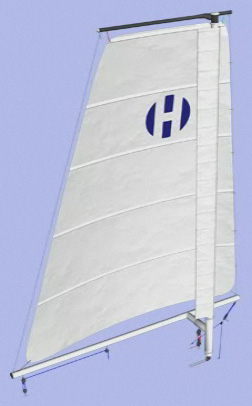 The Patented Garry Hoyt Offset Rig